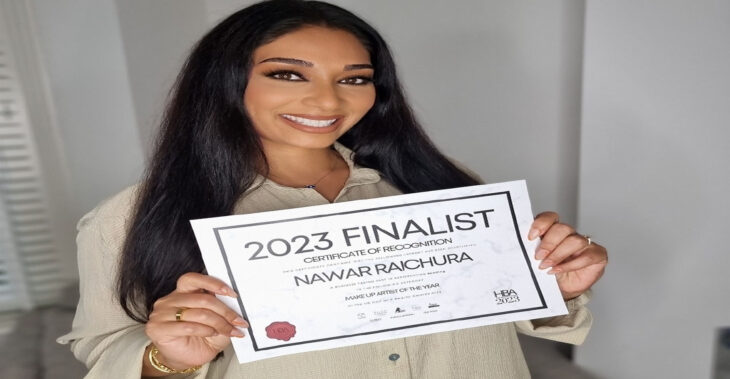 2023 FINALIST The UK Hair and Beauty Awards
Nawar is a professional makeup artist with over 10 years of experience in the beauty industry. She is highly skilled and creative, with a great rapport with her customers. This is why she is proud to announce that she has been nominated for an award at the upcoming 2023 Hair and Beauty Awards.
The UK Hair and Beauty Awards are on a mission to unite businesses all across the UK and celebrate them in style. It doesn't matter the size of the business, the goal is to assist them in reaching goals by recognising and promoting their amazing talents. The experienced team will develop a bespoke finalist-to-first place awards experience to ensure that each entrant maximises their reach and secures the recognition they deserve.
Nawar is dedicated to making her clients look and feel amazing and harnessing the power of their self-confidence. Nawar offers a friendly, reassuring and professional approach that discreetly fits into everyone's needs and expectations. She gives personal one-to-one consultations which are specifically designed to complement your individual skin and tones. You can expect nothing but the best with Nawar as she uses high-end professional products such as Bobbi Brown, Smashbox, NYX, Estee Lauder, MAC and NARS, all of which are specifically selected for their effectiveness and suitability to each customer. If you're unable to attend a face-to-face consultation, Nawar also offers online makeup consultations via Zoom or FaceTime.
Nawar ensures that she keeps up to date with the latest makeup trends, techniques and products by attending seminars and masterclasses. She listens intently to your preferences and will give honest options about which direction she believes it is best for you to take. She guides customers through several makeup looks and together, she will bring out your naturally beautiful self. Her strongest point is having the ability to create flawless long-lasting makeup that looks great on camera and in real life. If you're unsure of where to begin with your make-up, or you don't really know what you're looking for, then Nawar is more than happy to spend the time needed to get things right.
The UK Hair and Beauty Awards understand and appreciate that it can be tough to break into the industry, and this is why Nawar is exceptionally proud that her business and herself are being recognised for the constant hard work that goes into it on a daily basis. Nawar spends time drawing attention to the features that are her customer's favourite and helps to minimise the ones that they aren't so fond of. No matter how long it takes, Nawar will hold your hand every step of the way, ensuring that you really do get the best from her and for yourself.