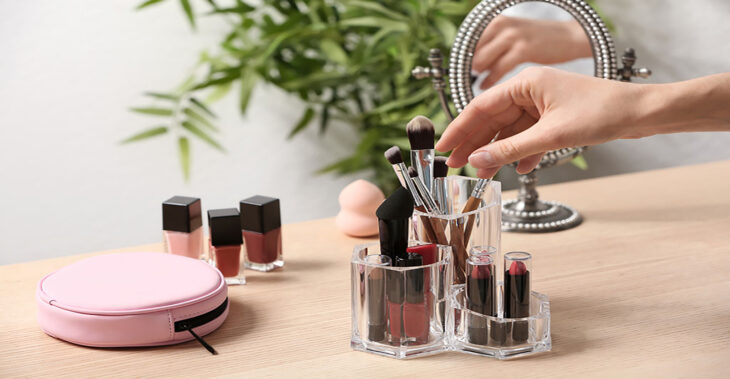 Makeup Storage Tips and How to Store Your Makeup
Regardless of whether you prefer having a full face of makeup every single day, or you prefer a more minimal look, it is always a good idea to have a clean and orderly space for your beauty routine.
However, due to the fact there are many storage items that vary in shapes and sizes of tubes, bottles, palettes and brushes, it can be difficult to know where to start and what the best cause of action is.
I am here to help you with your organising troubles and have compiled a list below of ideas to get you started.
Decorative Trays
Trays have become a more popular organisation item over the last couple of years. A decorative tray isn't just a place for you to keep your most used beauty statements, but it also gives you a chance to display them in a beautiful way. They don't require much maintenance and may motivate you to keep your space tidy.
Travel Case
You don't have to plan a trip in order to use a travel make-up case. They are a great way to organise any overflowing stash of beauty products you might have lying around. Ideally, they come with built-in dividers and slots for all of your needs and you will have plenty of space to do what you envision. There are also some travel cases that come with a built-in vanity so you're able to take it anywhere with you.
Lucite Drawers
Lucite drawers are clear, pretty and functional. You can use each drawer for a different product category, such as eyeshadow, lipstick, mascara, blush, etc. Organising products this way will enable you to find exactly what you're looking for in just a matter of seconds.
Tiered Trays
If you're looking for an organisation tip for your makeup that doesn't take up too much counter space, then a tiered tray might work perfectly for you. They display each of your products in a chic way without creating any clutter around your countertops.
Candle Jars
Have you ever bought a candle jar, burnt it out and then wished you could find some use for it? Well, thankfully, you can. Instead of throwing an empty jar away, simply melt any remaining wax, wash it, and then reuse them as a pretty holder for any makeup brushes, mascara, eyeliners, etc. Cheap, cheerful and recycling!
Removable Trays
If you have drawers for your makeup and you're tired of opening them to a pile of mess, it might be time to invest in removable trays. These trays can be moved out when you need certain items and put back in exactly how they were before. You're able to divide them according to your most used products and ones that are solely for special occasions.
Rotating Towers
We come across rotating towers all of the time in shops. However, imagine having one for your countertop, giving you the freedom to spin and look as you go ahead with your makeup routine. The rotating feature makes it easy to find exactly what you need.
I hope that I've managed to cure some of your make-up storage tip frustration and you've found an idea that perfectly matches your home and your routine.