Working Safely During Coronavirus (COVID-19)
As a make-up artist, one of my main priorities is to maximise the safety and hygiene for all my clients. To keep up my duty of care and to ensure my clients feel completely comfortable when I start working again, I have taken the Barbicide COVID-19 Certification Course. This course covers the most up-to-date professional beauty hygiene information and practises.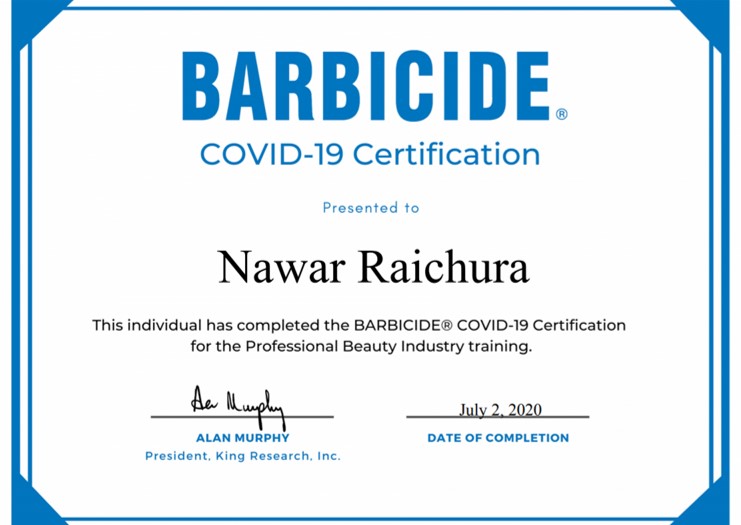 Appointment Safety Instructions
In the event of falling ill or have any symptoms of COVID-19, then I will cancel your appointment, it might be at short notice, but it is done entirely for your own safety. If it's your trial day I had to cancel; I will re-schedule your appointment as soon as possible after the required 14-day isolation period. If it's your wedding day I had to cancel; I will arrange for an equally qualified Makeup Artist to complete the services for the same agreed upon terms of payment. If I am unable to find a replacement artist, a 100% refund is provided.
If you or any of the people you live with feel ill or display any symptoms of COVlD-19 on the day, please advise me as soon as possible. Unfortunately, I will not be able to do your makeup and we will have to reschedule your appointment for as soon as possible after the required 14-day isolation period has elapsed.
On The Day Of The Appointment
For weddings and special occasions, appointments on location and group bookings, I will set up ideally in a separate room if there is one available away from clients and other professionals working on the day (please try to facilitate this, as it would be very helpful).
Other members of the party will be asked to come individually for their makeup at their scheduled time (as discussed at the trial). To maintain social distancing, others present who are not having makeup on the day, will not be permitted in same room.
I will ensure that I have washed my hands thoroughly and regularly use hand sanitiser in accordance with NHS recommendations just before you arrive.
I will use personal protective equipment (PPE) during your appointment. Upon arrival, I will disinfect surface tops and place a clean towel (washed at 60 degrees Centigrade, as recommended) on the area before starting work.
I will regularly deep clean and disinfect my makeup kit and all makeup tools, products and equipment will be disinfected or sterilised in line with the specific manufacturers' instructions for your safety, in between every client and at the end of the day. I will use stainless steel spatulas and mixing palettes (always sanitised) to decant makeup such as solid lipsticks. For Mascara, I use disposable Mascara wands and I never double dip back into the tube after the first application, I always use a new one. The same applies for any liquid makeup such as lip glosses and concealers.
All clients will be required to wash their hands and apply hand sanitiser before the appointed start time. I will advise my clients to wear new pair of disposable gloves during their appointment to eliminate any risk of prior contamination.
All disposable items are bagged and safely removed between each client.
In order to avoid handling of cash, I would ask that you pay for your makeup in advance by BACS transfer.
If you have any questions or concerns, please send an email to

[email protected]

and I will be happy to do what I can to make your appointment safe, comfortable and enjoyable.
This is for all our safety.
Nawar X
Last updated: 9th July 2020