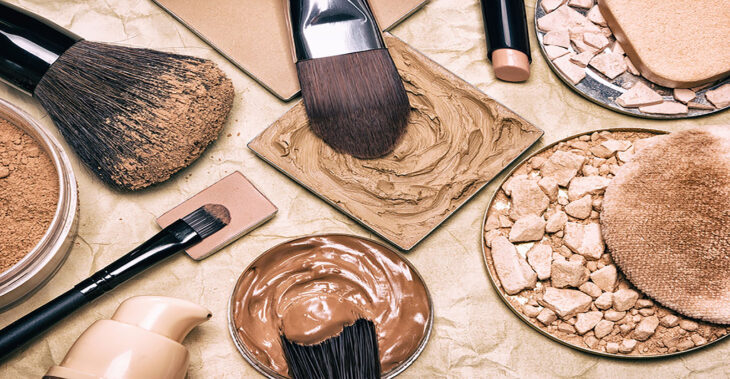 Full Guide on Choosing the Right Foundation
Foundation can be one of the hardest products to buy due to the fact there is an array of shades, finishes and coverage levels available to choose from. However, it is super customisable, so when you find the right foundation for your skin, it will last for years to come.
It can be hard to achieve perfection when you're looking for a foundation that looks exactly like your own skin – but better. Especially when a lot of makeup aisles have poor lighting and mirrors that are smaller than most compacts.
To assist you in your foundation hunting, we have listed everything to consider when shopping.
1. Find your perfect shade
You've probably got yourself in the habit of going into a cosmetic store, finding a foundation, and dabbing it on your forearm for a colouration check. However, skin on that part of your body is a lot darker than on your face. Simply find a spot towards the centre of your face and blend it out towards your hairline. It's always a good option to choose a shade lighter than your face colour because you're always able to warm up your face with bronzer.
2. Be mindful of your skin's undertones
You don't want to spend time-fighting against your skin's natural undertones. Just go with it! If you've got a cooler complexion, then find a foundation that has pink undertones. Whereas if you have a warmer complexion, try a shade that has yellow undertones. You can also try a neutral shade if you're looking for a foundation that is easy to match on different skin shades and tones.
3. Know the coverage level you need
If you rarely wear make-up, then a full-coverage foundation is going to feel heavy on your face. This is why you need to understand the coverage for your needs. It may be better for you to pick a more sheer foundation if you're unsure which coverage you need. If you have discolouration or acne, then you'd be better off opting for a full-coverage foundation.
4. Consider your skin type
Before you spend time choosing the right foundation, be mindful to consider whether you are looking for a matte or dewy type. If you have a normal to dry skin type, then you may be better with a dewy foundation. Whereas matte foundations are more suitable for combination to oily skin types.
5. Adapt your shade to the current season
With the forever changing weather, you won't be able to stick to one foundation all year. During the summer-spring seasons, our skin tends to warm up slightly as we spend more time outdoors and in direct sunlight. It's best to purchase another foundation just as winter is ending.
Remember that along with foundation, you need to ensure that skincare becomes a part of your routine. Having proper nutrition, hydration and a solid skincare routine will improve your skin and ensure that your makeup looks the best it can.