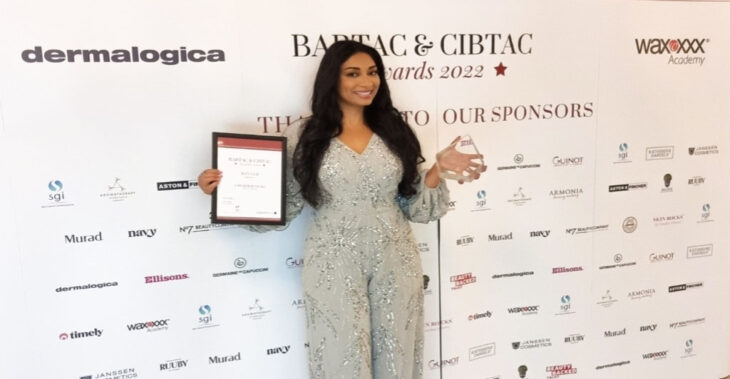 Award Winning Make-Up Artist 2022 BABTAC
It is with great pride that Nawar is the winner for the Make-Up Artist 2022 British Association of Beauty Therapy and Cosmetology (BATAC) awards. With a little dance and a beaming smile, Nawar made her way to the stage to pick up the award. With claps and congratulations from other businesses who had been nominated as finalists, this award is an industry highlight and always a fabulous and glamorous sold-out event.
The BACTAC & CIBTAC Awards recognise and reward excellence within the industry both nationally and internationally, as well as reflect upon the core values of the two organisations. Education, professionalism and industry development are central to the organisation's philosophy and this is the perfect event to showcase innovations and celebrate excellence. It is also a great opportunity for collaboration and networking amongst professionals within the cosmetic and beauty industry.
When it comes to looking and feeling your best, it is vital to have a skilled and creative make-up artist. This can definitely make a huge difference in how good you feel. Nawar focuses on drawing attention to your favourite features and helping you minimise the ones that you're not so fond of. This is why Nawar was nominated because she cares about the service and attention provided to each and every customer. Nawar is dedicated to making her customers look amazing, feel incredible and harness the power of self-confidence.
Nawar offers a friendly, reassuring and professional approach, a personal one to one consultation, high-end professional products and online makeup consultations. Nawar is both practical and artistic about cosmetics and their effects. Even though Nawar likes to focus on classic, timeless beauty, she also likes to stay current with trends, stating "For me, makeup is about so much more than applying pretty colours or adding a pop of highlighter. While staying on top of the latest styles and learning new skills has always been important to me, I believe that cosmetics can be a way for any woman to bring out her inner goddess and highlight her best features. Nothing is impossible when you feel beautiful, both inside and out."
Nawar strongly believes in highlighting everyone's unique beauty, and this is what stood out to the judges at BABTAC & CIBTAC. Nawar is passionate about skincare, and as a UK Makeup Artist, she always advises her clients on the best routines and products for their unique skin types. Nawar caters to women of all ages and states, "When we approach skincare from a scientific angle, the results can be spectacular; my analytical approach has taught me both to utilise a methodical mind as well as creative, 'out of the box' thinking."
A very much deserved award and a huge Congratulations!