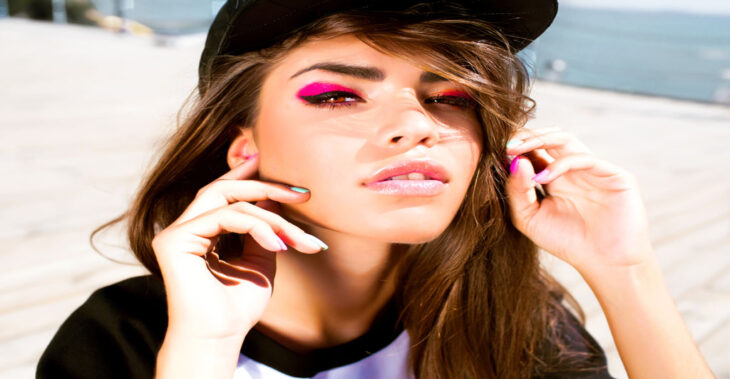 Tips and Tricks for Wearing Neon Colours This Summer
Let's face it, who doesn't love a bit of neon in the summer? It is the best way to make a statement at any event this season and we cannot get enough of it. However, are you feeling disheartened as to how you might wear it yourself? Not sure you are ready to change up your makeup? Stop right there. We have collected together some of the best ways for you to introduce those essential neon colours into your summer look. You won't look back after you hear about some of these bold, sassy and powerful looks – you'll be festival ready in no time.
Graphic Liner
Graphic liner is a fun way to bring in those all-important neon colours. It is a chance for you to get creative with your makeup and really stand out from the crowd this season. If you aren't quite ready for a neon pink winged eye, you can always replace the neon with white. White will make your eyes appear bigger, but make sure you get some colour in there too, to really make the white stand out.
Make it Subtle
Not a fan of the bolder looks, but still want to mix up your summer makeup? Fear not, neon can actually look subtle too. Swap out your brown and 'nude' eyeshadows for the bright pinks, yellows, blues and greens (not all at once though, if you're going for the 'subtle' look!) Try adding a splash of one of your bright colours to your eyelid and watch as your whole look pops.
Lippy
If having a bright neon eye isn't up your street, fear not. Why not give a bright lipstick a try? Wearing a brighter lip will mean you don't have to go too bold with the rest of your makeup, as your lips will do the talking (pun intended!) Neon colours will make your lips appear fuller and brighter, whilst drawing attention to your best feature: your smile!
Get Colour Smart
Make sure you do your research, not all colours are right for everyone. Have you noticed one colour looks gorgeous on your friend, but washes you out completely? Well, that is because different colours suit different skin tones. Try and find out your skin tone and work from there – this will be the best beauty hack you ever learn. Once you know which colours suit you best, life will be so much easier.
Adding neon colours to your makeup might seem a bit daunting at first – it is a big step after all. By just swapping out a few of your 'safer' colours for that summery neon glow, you'll notice a big difference in your appearance. If you aren't quite ready to make that leap of faith with your makeup, maybe try a neon orange nail varnish to begin with and see how you feel adding some bright colours into your life, it is so important to try out new things, especially where makeup is concerned. Say goodbye to those spring pastels and hello to neon – because summer is here and we couldn't be more excited!